Biba Butt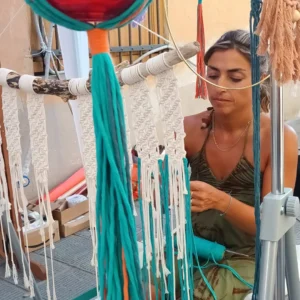 Our member spotlight for September is the creative entrepreneur, Biba Butt. An artist working with crochet and macrame techniques, Biba weaves beautiful bags and artistic products such as wall hangings.  But her artistic passions sit alongside a busy schedule of work as a teacher of business English, a career which has seen her travel and live in many countries including Japan, Mexico, Colombia, Spain and then different parts of Italy before settling in Florence 17 years ago.
A student of English Literature at The University of the West of England (UWE) Bristol, British-born Biba traces her creative instincts and interests to her paternal grandfather who moved to the UK from Kenya in 1960, following a career in tailoring for the British Army in Africa. The family, with its roots in Pakistan, settled in Bradford where her grandfather set up a tailoring business. Some of Biba's earliest memories are of being in his shop and playing with the huge rolls of textiles that were ready to be crafted into clothing.  On her mother's side as well, there was a history of work with textiles; the family settled in Halifax, and her mother worked from home, sewing clothes for different businesses.  As a young girl, Biba learned to crochet from family friends visiting from Greece; at the age of about 12, she made her first blanket. Though she didn't continue with crochet immediately, she picked it up years later, and finessed her techniques with the help of YouTube videos.
Working with yarn and fabric is a form of meditation for Biba.  For her, "making time" for her passion is not quantifiable – instead, she sees the time spent as a form of meditation and rest.  And linked to the meditative aspect of her artistic work is her passion to forge connections and to bring people together. Her journey with weaving began with the connections forged through the Moms for Moms expat group in Florence where the opportunity to show her work emerged through the friendships she made, when she first moved to Florence with her then infant son. A market stall in Il Conventino led to an invitation from Florence Factory to expand her art to make bags. "If you are passionate about what you do, you must have the confidence to show what you are doing" she says. For her, connections are about community, inspiration and collaboration, and not about the financial aspects. Reaching out for advice to one of her connections from the expat Moms group, led to new collaborations with JHA Porcelain and a joint exhibition. Similarly, collaboration with Zero Lab in Scandicci, with their focus on upcycling waste high-quality leather, led to the creation of woven leather bags.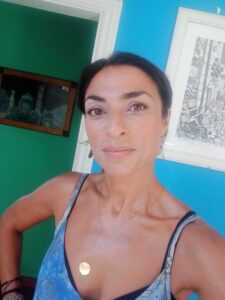 Biba is all about community and credits much of her own personal growth to the connections forged through groups like the WIN. She connects across the different groups she belongs to, and enjoys the synergies that result from cross-fertilising different associations and communities to which she belongs.  Later in September, she is organising a Mercatino 'pop up', that will offer a space to young artists and creators, providing them with an opportunity to connect with each other, forming new collaborations and communities in the process. Florence's traditional botteghi have fostered their artistic creativity in exclusive ways; Biba sees an opportunity to open up the space to recognize the role of young artists and also non-Italians who have chosen to make Florence their home, inspired by the creativity and beauty.
Between her day job and her thriving artistic expression, Biba finds no time to watch Netflix or take up other pursuits. She is passionate about yoga and meditation.  She values the space that groups like WIN provide to support newcomers to Florence, and over time has found that the connections and networks formed have helped her navigate difficult personal transitions. This is fundamental for people without moorings or family support systems around them. She finds this kind of female solidarity both helpful and inspirational and looks forward to contributing to these in her own future plans for mercatini and other ways of bringing artistic communities in Florence together.