Chloé Guest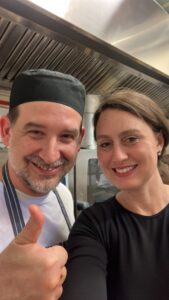 To residents of Florence, and tourists, Melaleuca is an established favorite, evidenced by the long queues that throng outside waiting for a table. The face of Melaleuca is the charming Chloé Guest, who generates the warmth and intimacy that this Aussie-American café is known for, with its ever-changing menu and its outstanding bakery and brunch food. For many, Melaleuca's cinnamon buns were one of the ways they coped with Italy's stringent lockdown in 2020/2021 – Chloé and her American-Italian husband, Marco Cappellari, along with their dedicated team, were back in the shop baking just 48 hours after lockdown had begun.
Chloé and Marco are hospitality and food industry veterans, with over fifty years' experience between them in the US, Australia and London, before coming to Florence to realize their dream of setting up their own place. In London, Chloé worked with the legendary celebrity chef Heston Blumenthal, including in his Front of House team in the Michelin star, award winning restaurant "Dinner by Heston." She became intimately familiar with the entire process of creation and cookery in a restaurant with exceptional standards. To deepen her skills Chloé moved to a cycle café in East London, a rapidly gentrifying and chic part of London, where she took on the role of head chef, to get the hands-on kitchen experience that she could use in establishing her own café.
The long hours of restaurant and café work have never deterred this "creative foodie". Of Irish and Portuguese-Indian ancestry, she grew up in Cairns, Australia, where she met Marco. Their love for food took them on a year-long food journey across Asia, and they then moved to the UK. After several years of working in central London, they decided to move to Italy. Between 2016-2018 they developed their networks and business plans, while catering everything from vegan weddings, special occasion cakes, and even the WIN monthly meetings.
Setting up a food business, or any business in Italy for that matter, is not an easy task – they encountered bureaucratic challenges, had to look hard for the right space, learn the language, all while expanding their family with the arrival of their second child in 2016. In 2019, they finally realized their dream of opening their own place. 5 months after opening, the COVID pandemic brought its own challenges; reinvention with a tack to delivery and takeaway, keeping up with constantly changing regulations and dealing with the financial hit to their nascent business. Yet, Melaleuca, named for a genus of Australian trees that include eucalyptus and tea tree, has not just survived, but thrived.
Melaleuca's vibrant convivial environment continues to offer a perfect space for Florence's diverse communities, it's also a place where people feel at home, almost no matter where they are from. Florence, with its sunshine, international community, size and dynamic flows of tourists and students, offers the perfect backdrop for their dreams which are continuing to grow.