WIN and Corri la Vita
September 2022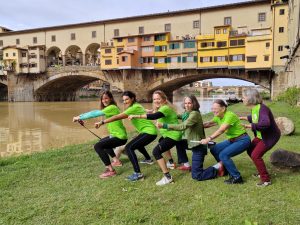 This year marks the 20th anniversary of the annual Corri la Vita Run for Life, which since 2022 has raised millions of euros for breast cancer diagnostics and care in Florence and Tuscany.
A small but enthusiastic group of WIN and friends met up at the last stop on the open venue list, and did the walking itinerary going backwards to avoid the crowds. We started at the Ex-Hospital of San Giovanni di Dio in Borgo Ognissanti, founded by the Vespucci family in 1390, and turned over to the Fatebenefratelli (or, in English, the DoGood Brothers) in 1587. Free tours were available of the funky medical museum in the former hospital, and in the monumental atrium we viewed the large ovals painted by Violante Ferroni in 1749. The canvas ovals and their stucco frames were restored by Liz Wicks and Marina Vincenti from 2019-2021, sponsored by the Advancing Women Artists Organization. The former hospital atrium and cloisters are open Monday and Thursday from 8am to 1pm, and Wed from 8am to 5pm, in case you missed today's visit.
Next on our itinerary was the Ferragamo Museum in Piazza Santa Trinità, but since the Museum hadn't yet opened, we ducked into the church of Santa Trinità. Here, Jane Nyhan told us about Domenico Ghirlandaio's Sassetti Chapel and Liz showed us another work she restored, the 1455 fresco by Neri di Bicci in the Dino Compagni Chapel.
Next stop was the Canottieri di Firenze, the famous Florentine Canoe Club situated under the Uffizi. Here we caught up with the crowds, but the wait was worth it! Founded in 1886, the Canoe Club still has and uses most of its venerable boats, as well as more modern equipment. Their rooms, full of memorabilia,  stretch back underneath the Uffizi, and their fabulous open air lawn and pergola is steps from the Ponte Vecchio. Here we enjoyed a rest and a snack and dreamed about planning a Win event at the Canoe Club next spring!
Next stop the Boboli Gardens, which we entered by way of the Annalena Gate and wound our way through to the Porta Romana exit. From there we went to see the Gypsoteca at the Porta Romana High School for the Visual Arts, which has life-size plaster copies of just about every sculpture in Florence. Then we backtracked through the Boboli again, winding our way past a fountain built on the hillside in 1620 with 16 monstrous water spouts called The Mostaccini, perhaps because of many of them sport moustaches. Others from our group, doing the itinerary in the correct order, visited the Granaio dell'Abbondanza, the garden of Palazzo Antinori del Brindisi, and the cloister and refectory of San Piero Martire. It's amazing how many hidden spots this city has, and thanks to Corri la Vita we got to visit many of them! And for me, best of all was enjoying it all in the company of our wonderful group of WINning women!!