ROMAN SALTIMBOCCA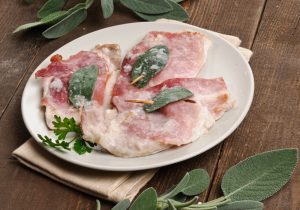 (Saltimbocca Alla Romana)
Saltimbocca, incidentally, means jump into the mouth.
Serves 4
Preparation time: 5 minutes
Cooking time: 10 minutes
Ingredients
4 thin prosciutto slices
7 pounds veal slices (4 slices)
4 fresh sage leaves
3 tablespoons butter
2 tablespoons olive oil
scant 1/4 cup dry white wine
Freshly-milled black pepper
2 tablespoons flour
2 tablespoons water
Directions
Place a half-slice of prosciutto on each slice
, put a sage leaf on top and fasten with a toothpick.
Put the flour on a dish and coat lightly only the side with no sage of the slice.
Melt 2 tablespoons of butter and the oil in a skillet and cook the veal over a medium heat on both sides until golden brown.
Season with pepper (no salt, sage and prosciutto are savoury enough), pour in the wine and cook until it has evaporated.
Move the slice to a dish, add water and the remaining butter to the juice of cooking. Cook for few minutes until it thickens. Pour on the slices and serve.
For info, please WhatsApp me at +39 329 0941506 or send me an email at carlotta@cookingwithcarlotta.com