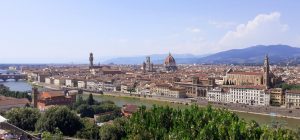 Expecting to be astonished in Florence in 2022!
"Things happen here if you let them, wonderful things when you least expect it. It's how the city becomes part of us forever." (from Sarah Winman, Still Life)
I am flying back to Italy on the 31st December and finally to a new life in Florence which has been a long-time dream of mine since I first came here as a student aged 19. I'm hoping to rent somewhere temporarily at first whilst I look out for my permanent home so would really appreciate any leads for both short-term (annexes, house/cat sits, rentals you hear of) and long-term rental, ideally in Firenze Sud/Galluzzo area. It is a big venture (and adventure) after 12 years in Lucca. As in Sarah Winman's book, I am expecting to be astonished by Florence all over again.
And after a hiatus in facilitating workshops and events since 2020 due to the pandemic, I'm looking forward to facilitating a " Master the Art of Running" workshop in 2022 with Alexander Technique teacher, Level 4 athletics trainer, Pose Method Coach and author of Master the Art of Running, Malcolm Balk. Malcolm has delivered amazing workshops worldwide for over 25 years and after bringing him to Lucca a good number of times, I'd now like to introduce him to a Florence crowd.
We are in preliminary discussions right now as to how we can bring this about in Florence and I am as ever very open to suggestions, particularly from any of you with any insider knowledge of gyms and running clubs. We are looking for a venue in or around Florence with a bit of indoor space for Malcolm's initial presentation and space to practise running outside. My contact details are as below.
Wishing you all a wondrous festive season, and expect to be astonished by 2022 (in the best possible way, of course).
Jane Parkinson
Coordinatrice e Facilitatrice di Workshop
Tuscany Arts and Healing
+39  345 3140844
tuscanyartsandhealing@gmail.com