by Elia Nichols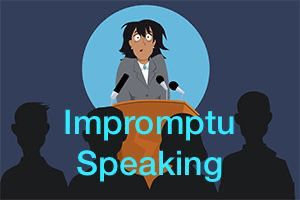 The September Impromptu Speaking Workshop was such a success that I am offering it again this November!
Join me in the upcoming Wonder Women Speakers workshop on Impromptu Speaking!
I know that many of you are often put in situations where you have to speak off the cuff in "improvised" speaking situations which "appear" to be more informal, but are equally important for the marketing, sales, and presentation of your activities. This is called IMPROMPTU SPEAKING, and it can be quite challenging and nerve-wracking, in any language!
Though it seems like it is not possible to train and prepare for this kind of impromptu speaking, there is actually a very simple and effective technique that will help you hone your impromptu speaking skills! It's called the P.R.E.P. framework, and I would like to teach it to you in our next Wonder Women Speakers workshop!
The P.R.E.P. framework will teach you how to calmly yet charismatically ace your future interviews, online meetings, youtube videos, podcasts, Facebook Lives, Zoom calls, press conferences, any situation where you have to participate in a Question and Answer session!!!
Price: 150 euro for the workshop.
Dates: Tuesdays, from November 9 – November 30, 4 evenings from 7-10 p.m. (November 9, 16, 23, 30)
WHO WANTS TO JOIN ME?!
To sign up or get more info, contact Elia at elianichols@gmail.com OR by phone/whatsapp: 338/9180867.
ELIA NICHOLS
Speaker & Communication Coach
for professionals who want to communicate the best of themselves

www.elianichols.com
Let's connect on LinkedIn