Pomellato Jewellery makes such timeless pieces. – Emma Thynn, Marchioness of Bath
April 2021 Special Speaker Recap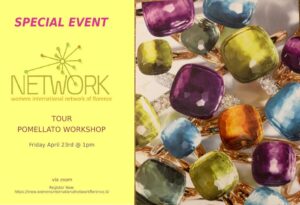 Behind the black façade of a former chocolate factory in Milan is a burst of colors and sparkle: Italian jeweler Pomellato's atelier. And who better to lead the WIN women on a glittering tour than our own radiant Elena Moll Speranza.
After March's insightful interview with the company's CEO Sabrina Belli to celebrate International Women's Day, Elena returned to Milan in April to pull back the curtain on Pomellato's wide world of jewels for a behind-the-scenes peek at the manufacturing of these iconic modern creations.
Via Zoom, a series of company professionals led us through the history of Pomellato – founded in 1967 by Pino Rabolini who created the concept of prêt-à-porter jewelry – to current quality control standards that include an eye toward responsible gold purchasing and sourcing of its signature colored gemstones.
All Pomellato designs are inspired by history and nature, Giulia, who has been in quality control for 20 years, told us. Each construction goes through molding, then casting, assembly – every day, roughly 100 artisans toil in the atelier setting jewels at an average of 15 stones per hour – and finally, polishing.
But the hard work begins before the handiwork with the gathering of caring, ethical, responsible, and traceable raw materials. Pomellato has earned Responsible Jewelry Council Certification for their code of practices and follows the ethical guidelines of Assogemme, an Italian association that tracks jewels through the supply chain. They are rightfully proud of these designations.
A normal year would find Pomellato gem master, Stefano, on the road seeking out the finest stones – gems that are millions of years old – for their distinctive piece. "I am looking to buy perfect stones at a good price," he says. But the pandemic has left him grounded in Milan. The company has enough backstock of jewels that they have been able to continue production despite interruptions in the supply line. But Stefano is eager to travel again.
"In each single piece is a part of our soul," he says, adding that the iconic Nudo ring "is our DNA."
A seemingly simple cut but full of tiny details on close inspection, Nudo is the full expression of Pomellato style, a style shared with WIN. The tour wrapped with a greeting from Pomellato's Tuscan-based PR manager, who promised WIN women yet another upcoming surprise. Stay tuned to see if it sparkles.
FOR MORE INFORMATION: