UNICEF's journey from 'the ashes of war to global challenges'
April 2021 Meeting speaker recap
by Donna Scharnagl and L.A. Robbins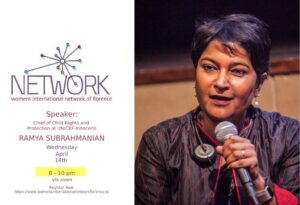 Dr. RAMYA SUBRAHMANIAN, Chief of Child Rights and Protection at UNICEF-Innocenti, who spoke at WIN's 14 April monthly meeting, presented somber evidence of the plight of underprivileged children together with the dire effects that Covid 19 has had on children worldwide.
It is clear from her 30 years of research, policy advocacy, training, and teaching that children and marginalized women continue to be strong passions.
As a young girl growing up in Bombay, she was touched by the challenges facing Indian women and began research to bring their deprivation and lack of civil rights and liberties to the world's attention. Together with her team she collected first-hand proof of their struggles and then advocated, trained, and taught them to ameliorate their situation.
She was fortunate enough to be educated in the UK where she discovered good mentors and explored feminist and gender issues. And then, to travel back to India to integrate her studies with three-year gender projects. From her African research, she shared a discovery that has changed her way of thinking: Working with kids we realized that they are not just victims but actually incredibly resilient. They know what's going on; they see the risks of migrating. And they don't have a choice. And our job is to listen. LIsten. Not assume we know what they need or when or how. After a PhD in rural fieldwork, she taught in the UK.
"Working on a grassroots level, I grasped and understood the humanity of others."
She sees her work as a bridge to connect those who don't have with those who do have and can do something to help. 'I hope to reach people in a meaningful way. To stand up for them. New policies and services have sprung out of better understanding.'
She arrived at UNICEF's Florence headquarters next to the famed Museum of Innocenti in 2018 to take up her current post as Chief of Child Rights and Protection, where she set up a new programme in Social Policy to address the needs of diverse children. And here she imposed the same rigorous guidelines as she had in earlier work in India – identifying not simply 'children — but which children because not all children will have the same set of needs. Her work also supports filmmakers from underprivileged communities who document discrimination from an own voice perspective. Research and analysis are keys to a better way forward – a transformation that will empower government agencies to make policy.
She shared a Powerpoint presentation and a short video chronicling the importance of the research and the changing role of UNICEF since its origin 75 years ago, after the decimation of the Second World War.
While many listeners are aware of the plight of children in underdevelopment countries, (UNICEF's goals are to help children survive and thrive, receive a decent education, be safe from violence, live in a safe, clean environment, and be offered an equitable chance), Dr. Subrahmanian's second focus, on the effects of Covid 19 may be less known. The virus and the severe impact of lockdown measures have had an adverse impact on children.
From the beginning of the pandemic, UNICEF pleaded with authorities the world over NOT to close the schools.
Besides, the pragmatic elements such as school meals, sometimes a lifeline of nutrition for underprivileged children, and a reprieve from potential abuse at home. Their freedom to see one another, to enjoy social events, and play away from home, their ability to travel abroad has been taken away.
Together with economic crises facing their countries, they face a difficult situation, both now and in the future, insofar as we can see it. Household incomes have been reduced or destroyed. Some are orphaned, stigmatised and discriminated against. Some children are required to go to work long before the age of 18. Girls may be forced to marry or may become pregnant with unwanted children they don't know how to take care of because they themselves are still children.
When asked how we can be catalysts for change she encouraged women to be mentors, especially for the "invisible" migrants, and to participate in movements.
Dr Subrahmanian's heartfelt presentation may well motivate many of us to become part of important humanitarian changes that are desperately needed.