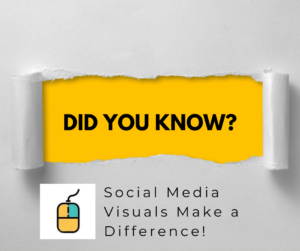 Research consistently shows that visual social posts get more shares, engagement, and clicks.
No surprise here, social media is a visual place.
Here are a few basic pointers for making the most of the visuals in your social media posts.  If you have any specific questions,  feel free to reach out to me for more information.
Take note:
Always use the correct size for your visual – otherwise, the overall effect can be lost. Social media platforms are constantly changing how big, how small, how wide, and how tall. Here is a link to a 2023 "cheat sheet" – however, I do suggest that you do a search every few months to see if anything has changed.
Don't have any programs on your computer to work with your images? I use this free online service which works almost exactly like Adobe photoshop:  Photopea   Another option for creating graphics could be Canva
If you don't have a compelling image – then search for one in a copyright-free image library.
Always keep the images pertinent to the subject matter.  Puppies and cute animals work like a charm – but if they have nothing to do with the subject — it could be considered clickbait.
Think ahead – how do you want the post to look when it is shared by someone? If your website is properly programmed, the featured image from the article will automatically appear in the social post when shared. However, if it isn't set-up this way it may be collecting the first image it finds on your website (like your logo, or a generic service photo) and not the pretty one that goes with the post. Check with your webmaster.
Fun FACT: Images with faces are powerful attention grabbers. And when the headline is included within the image itself, it is much more likely to be read.