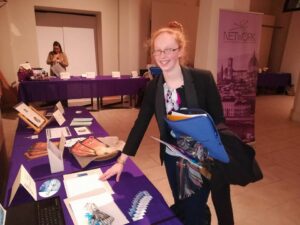 We transform our February meeting into an opportunity to get down to some serious networking – for our businesses, our preferred charities, or maybe even our favorite hobbies, all of which were started or discovered right here in Florence.
Our monthly meeting takes place on the 2° Wednesday of the month and will start with finger food apricena and socializing. So, what's different? You will also find a collection of tables exhibiting details, samples, discounts, and sign-ups from several of our members eager to "show 'n tell".  And then, instead of a single speaker, we will have approximately 20 members present a 2-minute elevator speech about their services, charity, or other.
What to Expect
This is a meeting for everyone – even if you are not presenting – or maybe, especially, if you are not presenting.
Within our ranks we have a wide variety of realities and few will leave you "bocca aperta" (as the Italians would say).  There are always a few surprises – like our annual raffle! Those participating in the fair, the WIN Board and our "Friends of WIN" donate objects, gift certificates and more for the raffle.
All money that is collected is then donated to a select organization that has its roots in the Florentine community. Last year, we collected almost 700 euros!  (Our goal is to beat that number!)
Why we Invite you to Participate
WIN is composed of long-time residents and new arrivals to our fair city. This meeting is designed to help everyone to make new and important connections: clients, services, potential new markets, and collaborators.
We all go home with a few more business cards, a few new contacts, and a greater appreciation of the diversity within our English-speaking community.
Who Can & Should Participate
There is space for everyone. Though this would seem to be more business-related,  you will find that there are many different topics that interest the members – including charities, local activities, hobbies, and services.  Participation is restricted only to members.
Members who elect to participate will benefit from several little extras. The first thing, there is no extra cost to participate – it is all part of the membership.  But here is a list of some of the extra special things that we do to help their visibility:
be featured in all newsletters as a business participant
you will be recognized on all social media mediums with your business name
have a moment to present your business during the event
have your business displayed in the Member's Directory
this event will be advertised in the local media
endless exposure to your business activities