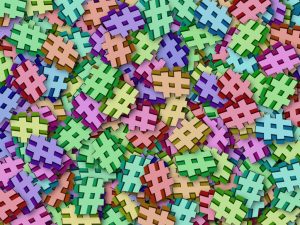 by Donna Denise Scharnagl
I get asked this question every year: "Are Hashtags dead?" And let me tell you if you find an article hyping that #hashtags are dead in social media then mark it as fake news.
The question you should be asking is not "to use or not to use?" Rather ask what the public and Instagram/Facebook/etc do with hashtags when you use them.
Using Hashtags
was to boost your social media presence
Originally, hashtags were used by the audience to find posts that talked about things they were interested in.  Especially posts that were located in profiles they DIDN'T follow. For the social media account, it was a way of expanding the reach, boosting engagement, and finding new followers by reaching NON-followers.
That is still true today – though not as much today as maybe 5 years ago.
Why use hashtags today
if not to find new followers and get more engagement?
The public doesn't have to search for information today. Social media platforms offer it to them with little-to-no effort. Today, with AI (artificial intelligence), social media platforms practically know us better than we know ourselves!
In some applications instead of users using hashtags to find posts, the social media platforms do it for them.
This begs the question, how are social media platforms (like Instagram or Facebook) using hashtags? They are using hashtags to sort posts into categories. Then the social media platform throws it into your feed.  This means, when you flip thru your Instagram or Facebook account it will automatically come up.
For example, if you are always looking at reels of cute dogs then Instagram will flag you as a dog-lover.  Then it will look at all recent posts with hashtags that can be a match with cute dogs.
Here are a few other examples of generic hashtags that can get your post into the "right" category.
#bestdestinationsitaly
#fashionmodels
#florencecookinglessons
#bestSEOpractices
#Hashtags for 2023
My suggestion is to use hashtags in both ways (to reach new followers & engagement, as well as, guide social media to categorize your content correctly).  Keep this up, at least for now.  There is no need to be on the cutting edge of "best social media practices" and lose out on the potential benefits of a system that still works for more than half of the users.
Whether it's LinkedIn, Facebook, Twitter, or Instagram, hashtags still play an important role in connecting potential customers with your business.
Or you can reach out to me and I can assist you in creating a strategy that helps you reach your marketing goals.😎