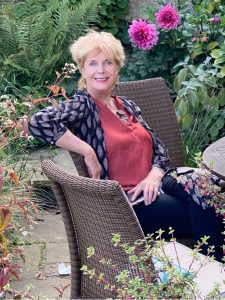 Jane has been a member of WIN for the past three years, but she has been living in Lucca since 2008 where she founded and runs 'Tuscany Arts and Healing' a centre for bringing together her three passions – art, healing therapies, and social connection. Originally from Cornwall in the UK, Jane was drawn to languages, learning Italian in school along with French. The opportunity for a term abroad and her passions for history, art and culture brought her to Florence – and that lay the foundation for her future return to Italy years later.
These early foundations were instrumental in shaping Jane's current work. She describes pouring over books on art and culture in her teens, unlike her peers. Early and strong influences were her parents – her father was, unusually for the times, an early adopter of yoga, and would take the family on nature walks, kindling her passion for nature and the environment, as well as for yoga and other practices.
From her mother, Jane inherited skills of networking and social connection – something that has profoundly shaped her choices. She is a trained bereavement counsellor, Reiki master and has training in meditation and aromatherapy but she realised her strong organisational and networking skills would better serve the creation of her dream – the bringing together of different healing techniques and artistic practices through an integrated centre – to wider audiences.  And where better to do that than in Italy?
Thus the idea of Tuscany Arts & Healing was born which Jane runs as a virtual centre (www.tuscanyartsandhealing.com).  The centre has organised retreats in Tuscany on a wide array of healing methods – yoga, the Alexander Technique, Integrative Energy Medicine, as well as more regular classes in Lucca – for example, yoga,  Pilates, and the Rosen Method Bodywork. Application of these techniques to dramatic and musical arts (such as voice workshops for performers and singers) and running, have also expanded her circle of influence to gyms, and the arts world. All these constitute the building of a "web of positivity", much needed now more than ever.
Jane's wide networks have also led her to identify a range of new methods that she looks forward to bringing to Tuscany. Last month, she organised a well-attended residential retreat on Chi Kung (also known as Qigong), a Chinese system of coordinated body-movement, breathing and meditation, facilitated by  a UK-based master, Timothy Spratt, who appreciated Jane's "successful and seamless facilitating and co-ordination."  New ideas for 2023 include Vedic-inspired art, portrait photography, another Chi Kung retreat and many others!
From being the Head of Languages at a school in Cornwall to a facilitator and co-ordinator of many different healing methods, Jane is at heart a communicator and life-long learner. Moving between Italy and Cornwall where she spends time with her two sons, and her grandson Jack (with another grandchild on the way in 2023), Jane values family above everything else.  She is now looking forward to a move to Florence from Lucca, as she continues to find venues and opportunities for bringing affordable access to healing across beautiful settings in Tuscany