'Libiamo ne' lieti calici': a joyful toast to Florence's Mascarade Opera Studio
May 2022 Meeting speaker recap
by L.A. Robbins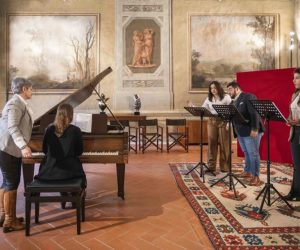 On Wednesday May 11, WIN held a joyous face-to-face meeting in the gracious Palazzo Corsini* in Via Il Prato on Florence's west side. While the building may have been masked in shrouds and scaffolding, WIN members jubilantly unmasked to greet each other (yes! physical contact: hugs and kisses) and enjoy our first large-scale face-to-face meeting in almost two years. The Palazzo's gracious entryway opens into a high-ceilinged foyer flanked by two, well-appointed rooms, one of which was set up to serve a tasty apericena. Over 50 WIN members and guests attended; the lure of an evening in Florence's new Mascarade Opera Studio housed in the 17th century palazzo may have had something to do with the high turnout. Judging from the countless, grinning faces, most everyone was thrilled to bits 'be' the party, rather than to watch images in the kitchen and hope that efforts at tidying face and space make our participation palatable.  A few attendees had spent so much time in isolation, thank you Covid, that they seemed tongue-tied at first utterance. This didn't last long.
Guest speaker and host, Dr Ralph Strehle, Director of Mascarade Opera Studio, gave a descriptive talk, 'Grit and Passion: How to Stay on Top of Your Game' based in part on the rigorous tuition he offers attendees of the fulltime nine-month training programme for highly-talented young singers and répétiteurs** Expert coaches, vocal consultants and performance specialists groom eight fortunate studio artists for successful future careers as opera singers. The audition process is long and daunting; some 500-600 candidates compete to enroll in what Strehle aims will become 'the world's gold standard' for independent performance training in opera. Courses are complemented by tuition from master teachers. Orchestral showcases and operatic performances debut every June and September, often in cooperation with Venice's famed opera house, 'La Fenice'.
'Peak performance in high-pressure performance environments' requires tenacious resilience, competence and team work (singers hail from diverse cultures), Strehle insists. He surveyed techniques and strategies that build these attributes, stressing the importance of cultivating intrinsic motivation. In addition to theory and practice with respect to singing, the director outlined the essential psychological skills required to 'make it' at an international level, noting that his programme also covers the business aspects of such a career.  Similar educational milestones are set for many successful training initiatives, from creative arts to entrepreneurial venture capital, remarked one listener. Yet success comes only after very hard work. Ensuring that his protégés do that work and aspire to lofty goals is a challenge: 'I have to create the environment for their performances, give them feedback that sticks, be tough' in order to shape studio artists so that they can be autonomous and perform, despite past, present or potential difficulties.
Listeners delighted at an unexpected treat:  Strehle interrupted his presentation to showcase a a lusty-voice baritone singing a resonant aria with piano accompaniment. His Powerpoint talk continued with the importance being 'fully present when on stage and singing', to 'enjoy what you do. 'It's alot of work to be competent in front of a large audience.'
Strehle, a trained opera singer himself with a resounding laugh to prove it, worked as Associate Head of Vocal Studies at the Royal Conservatoire of Scotland. As a performance coach he works all over Europe and a number of institutions such as the National Opera Studio and Hamburg IOS. His areas of expertise include effective practice techniques, performance profiling, audition and competition preparation, the design of individual psychological skills training programmes for musicians and peak performance workshops. He is currently writing his second PhD in the field of motivation.
Mascarade Opera Studio programme's thorough scope attests to its director's vision. In fact, the name 'Strehle' connotes a person with high ideals and a passion for helping others.  Ralph Strehle embraces his calling with enthusiasm. A toast to Florence's Mascarade Opera Studio.
**pianists
*The Palazzo Corsini on Via il Prato is one of two 17th century Corsini Palazzos in Florence, the otther, (lungarno) facing the Arno.
The Corsini family originated from Poggibonsi and from the "Pesa" valley, between Siena and Florence. They arrived in Florence towards the end of the 12th century. During the 14th century they gained prominence as politicians, traders, and churchmen in what was the Republic of Florence. They gave to Florence twelve Priors and forty-seven Gonfalonieres of Justice, the highest appointments in Florence.
Two Corsinis were bishops of Fiesole. Two others, Piero (1363) and Amerigo (1411), were bishops of Florence. At the end of the 15th century the family's political influence decreased, mainly when the Medici family took the helm. As a whole the Corsinis flourished in business and politics under Medici rule, acquiring titles, lands, and offices, developing a large banking and brokerage business.
The present prince's heir is his son, Prince Duccio, Duke of Casigliano (born 1964). The duke's son and eventual heir to the princely title was Prince Filippo Corsini. Aged 21, he was killed in London  2016 in a cycling accident.[11]
excerpted from Wikipedia.