Searching for a "Heart of Gold"?
Donate and make a difference
April 2022 recap – NANCY BAILEY

by L.A. Robbins
Our April speaker, Nancy Bailey worked tirelessly to bring humanitarian aid to refugees and displaced people during the Bosnian war from the early 1990s onward. In all, she made over seventy trips to the war-torn country.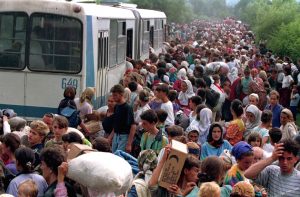 During her talk, she provided show-stopping statistics:
There are 84 million forcibly-displaced people worldwide today. In Europe, the number has doubled, from 17 million to 34 million in the last two decades.
There are 52 wars taking place this minute, around the globe.
Italy has recently accepted 91,000 Ukraine refugees.
"Wars don't end when the bombing stops"; refugees often remain without proper political asylum or reliable sustenance for 25 years and more. "Fewer than 1% of Europe's 26.6 million refugees are resettled each year."
Those who wish to support the Ukrainians would best remember the UN rule regarding help to fellow humans in crisis: "do no harm".  Yet that is precisely what often happens, Nancy cautions.
"Hundreds of social media platforms" advertising their remit as donation collection and distribution organisations are actually "funding weapons purchase and the recruitment of military troops", we learned.  Some Facebook adverts disguise the true motivations of so-called non-profit organisations; your contribution does not arrive at the intended destination.
A 1999 trial trip to Albania during the Kosovo conflict was singularly unsuccessful. The restrictions posed at the last minute by the Albanian government impeded any kind of accountable distribution, so no further trips were planned. What effective humanitarian aid requires is cooperation and coordination, and by receiving authorities in order to ensure that the aid actually gets to the people in need.
What can we do to donate effectively? We can help refugees fleeing their countries or help those who are already in Italy. If planning to donate to a specific organisation, Nancy suggests asking questions in order to ensure that our aid goes where we want it to, and in a timely fashion:
make certain the recipient organisation has created a criteria in planning donation and distribution.
know which group of needy people will receive the goods; decide if social cases will be top priority?
learn what goods are being collected? (food, medicine, etc)
learn how and where items are to be stored until it is time for them to be transported
find out how they will be transported?
learn how delivery of donated articles will be coordinated, from pick up through distribution. Nancy explained how the local mafias, which seem to pop up with every war, try to restrict distribution or attempt to profit from the incoming aid.
find out who makes the list of what is needed? Have the refugees been asked what they most need? Refugees themselves are best-placed to know what they need, not the authorities.
Nancy explained that often the authorities don't know what is needed and request items that cannot be used. For instance, the Municipality of Florence collected flour and pasta to send to refugees located in a sports stadium in Sarajevo which had no cooking facilities. Some donations never reached intended  destinations.
Nancy first volunteered to help during the Bosnian war in September 1993. She worked mostly in refugee camps in Croatia, south of Split. Eventually, monthly trips included.  Eventually monthly trips included 650 food packages sent from Bagno a Ripoli and other areas.
She worked with children in refugee camps. She spoke of discrimination against Muslims and Serbs.  Refugees especially appreciated letters and photos from the Italian families who were sponsoring them and sending relief. When, at a future time, some were able to unite with their supporters, the events were joyous and tearful.
Her humanitarian activities made a profound mark in the areas in which she was working, and they left a mark on her, as well. She is a founding member of U.S. Citizens Against War Florence (formed in 1991). She was President of the Peace Commission for the Municipality of Bagno a Ripoli for 10 years (1997-2007) and continues to promote peace education in middle and high schools in Tuscany, writes  WIN Speaker-Coordinator Liz Wicks.
Nancy's activities reinforced her perspective. "War is nothing more than legalised murder. And both sides lose. "There are no war crimes – war is the crime."
So what is the answer? How do we stop war? "Sanctions, dialogue, negotiation," Nancy says. Widescale investment in all stages of harnessing renewable resources (wind and solar) to become energy self-sufficient and to protect the environment which is happening presently in Italy. And getting involved. As she did.
She flew across the Atlantic from Washington state in 1968 for four days to see the Uffizi. Then she got married, had a family, and has been here ever since. Nancy started volunteering at age 12.  Her active involvement in supporting refugees of the Bosnian war may not have been what she had planned once in Europe. But it seems she may have been preparing for it all along.  One might say she "crossed the ocean for a heart of gold".
Nancy  recently published an ebook on volunteering during and after the Bosnian War, Cronache di un avventura di solidaritià https://bit.ly/CronacheSolidarietà. She has been teaching ESL in Italy for over fifty years and conducting teacher training in the Italian Ministry of Education"s in-service programmes for the last fifteen. She also taught at the Florence University's teachers' college for future elementary school teachers, writes Liz Wicks. Nancy's WIN talk was her first-ever speech on this topic in English.