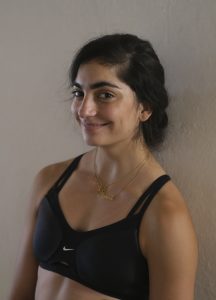 by Liz Wicks
Our October meeting spotlight featured a dynamic new member of our group, Ranah Farkhondeh. Ranah, born in Los Angeles and of Iranian descent, is a health + fitness specialist formerly based in L.A. and New York City.
About why she was drawn to join WIN Ranah says:"I'm looking to connect with driven, like-minded women to have a greater sense of community here! Through WIN I've also realized that I'm not the only "crazy" female that decided to pick up her life and move it to Florence😊
Ranah has been a certified personal trainer for over five years, having formerly worked as a Tier X health coach and Fitness Training Institute Master Instructor for Equinox, Inc., one of America's most prolific fitness companies.
In New York City, Ranah launched Movement IQ® because she was frustrated with the lack of quality programming and attention to detail when it came to how movement was taught in everyday fitness classes. As Ranah said recently
"I got frustrated with the fitness scene in New York, it's very bells and whistles. Substance was getting lost amongst the chaos. That's one of the reasons I was drawn to Italy".
A love and deep appreciation for Italian culture led her to bring Movement IQ® to Florence. Ranah is very much looking forward to incorporating a little New York City fitness hustle into the landscape here, to help build an Italian fitness culture that's balanced, fun, yet highly effective and intentional. Stepping into Ranah's studio, around the corner from Santo Spirito on Via Coverelli, and just being in touch with her youthful energy makes you feel revitalized even before you begin her classes.
For more info about Ranah and also MovementIQ, contact