SAVOURY PIE WITH LEEKS, SQUASH AND CHESTNUTS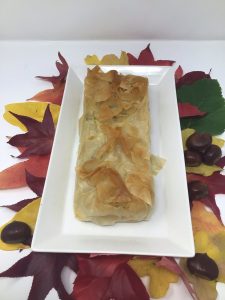 Yield: serves 12
Preparation time: 30 minutes
Cooking time: 50-60 minutes
Total time: 90 minutes
Ingredients
10 sheets of filo pastry, thawed if frozen
1/4 cups olive oil or unsalted butter, melted, if you cannot find good quality olive oil
Filling
3 tablespoons olive oil
2 leeks, cleaned and cut into rings
0.65 pounds (300 g) butternut squash, peeled, seeded, and grated (using the largest holes of a four-sided grater) or finely chopped
7 oz (200 g) chestnuts, boiled and peeled
7 oz (200 g) cream cheese (possibly chèvre) or Robiola cheese
½ cup (125 ml) milk
2 eggs
2 oz (60 g) grated cheese
Sea salt and white pepper, freshly milled
Special equipment
2 plum-cake molds
Instructions
In a pan, slightly brown the leeks and add the squash as they turn a light golden colour (no more than 10 minutes, as all ingredients will be properly cooked in the oven)
Preheat the oven to 350°F (180 C).
Butter or oil the plum-cake molds.
In a bowl beat the eggs with the grated cheese, cream cheese and milk. Add salt and pepper and the crumbled chestnuts.
Unfold the sheets of filo pastry, lay the stack on a work surface, and cover with wax paper and then a damp kitchen towel to keep it from drying out. Remove 1 piece of filo, place it in the mold, and brush it with some oil (or butter). Continue in the same way with the filo and oil/butter until you have used the other 4 sheets of filo. Repeat with the other mold.
Move the filling from the pan to the bowl and fill the pies. Cover the tops with the flaps of the filo pastry, intersecting them and making a kind of decorative pattern. Brush again with some fat.
Bake for 30-40 minutes.
Still excellent if served the day after, warm.
For info, please WhatsApp me at +39 329 0941506 or send me an email at carlotta@cookingwithcarlotta.com