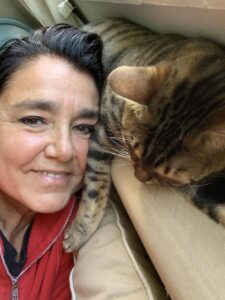 by Elia Nichols
Giulia is the eldest of two daughters of an Istrian Exodus exile and a Sardinian doctor, who fell in love at first sight, married, and started their family in Florence. Giulia grew up speaking Italian, English, and French, and at a very young age, she found her love for learning how to communicate with people of diverse backgrounds, cultures, and sensibilities. She has traveled and lived abroad extensively for study, research, and work in Austria, Belgium, Brazil, Canada, China, France, Finland, Germany, Greece, Hungary, Mexico, Spain, Russia, the Balkans, many Mediterranean Basin countries, Ukraine, the UK, the United States. As a young woman, Giulia became excited by her discoveries in Ethnic, Post-Colonial, and Women's Studies. At the age of 20, she received a scholarship to pursue her graduate studies at Smith College in Massachusetts. A few years later she was invited to return as the youngest foreign visiting Lecturer in African American Studies and Women's literature.
Giulia has a particularly strong relationship with several Native tribes of North America and an in-depth understanding of the challenges Aboriginal People cope with for the recognition of their human rights. 40 years ago, she was adopted by a few First Nations and Native families and they have generously enriched each other's lives in ways that none of them would have ever imagined. In 2011 I had the honor of being nominated to represent Italy in some ceremonies in New Mexico as a Wise Grandmother by the Foundation of Wisdom of Grandmothers.
She has worked in the UK with Muslim Women's organizations, with the mining communities, and the local women's organizations created in the aftermath of Thatcher's ruthless policy against the miners.
For years, she was the director of the Centre for Immigrants of the municipality of Pistoia.
She has been a Professor of English at the Univ. of Florence and currently at the Univ. of Bologna.
Giulia perceives herself as an intercultural human being, always in the making, open to change, a woman who is willing to live in a complex world made up of values and beliefs that can be seen and understood from different points of view; someone who is ready to question, explore, compare, analyze and reflect, thus becoming a critical person; someone who has learned by experience that education, just like life, is a life-long endeavor.
She has been an active member of the International League for the Rights and Liberation of Peoples, the Artemisia organization, of Wambli Gleska, a Florentine association that supports the Lakota nation of Rosebud in South Dakota. She has even co-produced a film, called Good Giants, a documentary that tells the true story of the Buffalo Soldiers of World War II through the eyes of the grateful Italian people they liberated in Tuscany.
In the midst of this rich, varied life, Giulia even found the time to have a daughter! Her daughter Lavinia lives in London and has made her a grandmother twice!
Giulia's life has not been easy and it has come with many dark challenges. Yet despite the many blows, disappointments and hardships, she is passionate about life, her job, whatever that may be, and most of all about human relationships and women's solidarity in the struggle for a better life for all.