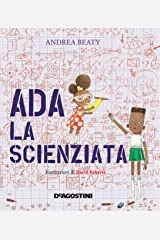 I was having a conversation with another member of WIN and she expressed concern about seeing her young family member's expectations of their future.
I have been thinking a lot about the question that she asked last Saturday about how to spark in your grandchildren the 'dream' of higher education. I certainly don't have fool-proof recommendations but here is what I was thinking: As we talked about, for starters, books! Truly reading and a love of reading sets kids up for lifelong learning and that does translate on some level of a desire to pursue a college degree.
But I would also be purposeful in my choice of books. I would want books that show characters engaged in learning activities and reaching for bigger goals. The ones that come to mind (that I know are also in Italian) are the series by Andrea Beaty, Ada Twist Scientist, Rosie Revere Engineer, Iggy Peck Architect (links below) – I can think on others and I am also happy to give you some Barefoot Books that I still have in inventory as well.
The other thought I had is that the kinds of toys they play with are also key to stimulating higher thought processes which may lead them to aspire to higher learning. Challenging board games (including chess), building kits (Kiwico has great ones but there are a lot out there – and even Legos are fantastic), and activities that engage them in problem-solving.
Finally, I would say that being primed to think about a long academic career is also what leads to one…and we know too that the example of those in our family is very important as well. So, you can be that person, talking about your own experience and encouraging them in their studies. I know they are little now but when they do start school, show an interest in it: ask them what they've learned, engage them in doing independent learning about subjects they enjoy, talk about career opportunities, and how to get there.
One thing I find about the school system here is that people talk about it in an oppressive way (and I think it is!) and I think it is up to those of us who do not have that experience with education to show a different side of it. I hope this helps and feel free to bounce ideas or ask questions about these and other education topics at any time. I think about this stuff a lot!
These are available on Amazon but I always encourage people to support their local bookstores. There is a lovely little shop in Antella that is really a children's clothing/toy/organic product store that has a great small book section and she has offered to get books I request…so I recommend a place like that even.