We are becoming more and more sedentary
perhaps the pandemic has pushed us over the edge and caused us more ill-health in hope of avoiding, well, illness
by Lisa Irene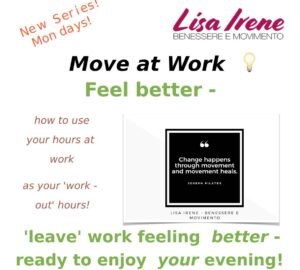 We are becoming more and more sedentary – perhaps the pandemic has pushed us over the edge and caused us more ill-health in hope of avoiding, well, illness.
I know I have had a period of a lot less movement than what I had in the year 2019…
Just over a year ago, one could walk to work, or even drive or take public transportation – but given the way parking generally is around Italy and where the bus stops are located, beh, you'd still have to walk a bit once you found a place to park your car or found your stop!
Not only, no matter where your place of work, be it in the office, at a store, in a museum, in a professional studio, small bouts of movement were, I dare guess, inevitable:
probably a longer walk to the 'loo (then at home);
probably a longer walk to get a coffee from a machine or the bar;
perhaps a walk to the mensa or the bar serving as the mensa for your workplace was factored into your day;
perhaps some people even took a midday walk around the quartiere before returning to the workplace.
Does any of this sound familiar?
Just add up the number of times you did this, or similar, no I mean it!
Get a pencil and a piece of paper and start brainstorming what you used to do that you do not (cannot) do now:
– Type of activity, perhaps the above mentions inspire your brainstorming, in a usual day;
– Add up the minutes for each activity;
– Multiply this by the number of times it happened in a week;
– Voilà! You may now see your current life as frightfully sedentary!
Or – do the reverse: write down all the situations in which you find yourself seated (even breakfast, even in the car….); note how many minutes for each activity; how many times a week for each; add it all up, convert the minutes to hours, and see how many hours a week you are in the same 'ol seated position. Then add how many hours you sleep in a week.
Note there are 168 total hours in a week.
Subtract your number from this and what do you come up with?
Are those hours left enough to offset all the sedentary hours??
In fact, an article in Fitness Trend last December 2020 announced the World Health Organization's intention to reduce inactivity 15% by the year 2030, replacing the recommendations made in 2010.
"Any and all movement is encouraged", as "each step counts"! Especially given the restrictions caused by the current pandemic. "We need to move every day, in a safe and creative way," states Tedros Adhanom Ghebreyesus, the general director. "…Any type of activity – not only those labeled as a specific sport or free-time activity." He also encourages movement in the place of work, at schools, running errands on foot or on a bike, and also taking advantage of household chores.
So – what are the guidelines they recommend?
At least 150 to 300 minutes of moderate to intense aerobic activity per week (that's about 21 to 40 minutes a day) for adults;
For adolescents, 60 minutes/day
For those 65 and older, to include activities that help better one's balance, coordination, and muscle tone, thereby reducing the risk of accidental falls.
In any event, movement helps "to significantly reduce symptoms of depression and anxiety, as well as suppressing cognitive decline, reinforcing memory and general brain health."
Fiona Bull, in charge of the Physical Activity Unit, who encouraged the development of these new guidelines, stated that they were "important for everyone no matter age or condition"(obviously considering necessary precautions) as "being active is important for our heart, our body, our mind."
How do you feel about your movement practice (note I did not say exercise practice)?
Has it suffered in the past year? How?
What is one thing you can add this week to begin to make a change in your physiology, and help you gain leverage? My advice is to start small, work on this new habit, and in no time you will begin to find more opportunities for movement during your day!
What do I do? Well, I go out more for an espresso or an orzo, or just to pick up one item at the corner store. Fortunately, nearby there is a park, così allungo la strada 😉
I try to carry my groceries home (beh, I have both a market and a supermarket nearby) and, depending on how much I have, I try to find different ways of carrying them (read arm strength, obliques or waist toning, and a slight cardiovascular challenge).
Maybe …. IT HAS BEEN DIFFERENT FOR YOU??!
Tell me/us more! Help us all learn something – come over to my page and comment – here we can begin a helpful discussion for all 🙂
Look me up and follow me on Facebook
For example, I have had one person share with me how happy she is with Remote Working: she is more active than ever! Not only, but she also purchased new office-type furniture at IKEA that corresponds to her height, her size – as in the office – well, it was "never quite right".
What's YOUR story??
Here's wishing you bouts of creativity, movement, and good mental health!