Dental Monthly
The Birth of the Dental (You)Tube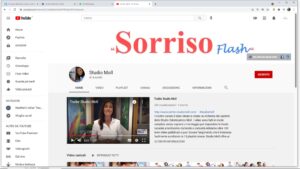 It was an idea of a patient of mine who wanted to have her friend enroll in the clinic. But this person kept on canceling appointments. She explained that he needed to see me and asked me to make a short video to just say Hi to her friend and show that I am not that frightening.
So I made 2 videos one dressed with and one without a white coat.
And it worked!…after the first visit, I succeeded in stabilizing a healthy human relationship with the patient based on trust and respect.
So this is how YOU Tube Channel Studio Moll started in December 2017
I made the videos without script or editing mostly because of a lack of time to dedicate to this project. I did not mind the very natural and stand-up improvising result, aiming to just give true and useful information.
As for the subject of the videos, I thought it was a great idea to base them simply on the questions received in many years of work. There were funny questions and weird ones, but for me, every question is important if it comes up in somebody's mind. Especially when it's My Patient's mind.
To name a couple: Why do my teeth turn transparent? Why do I have a dry mouth? Why do I get a toothache when I make love to my husband?
The reactions to the channel?
There were many unknown people like Haters, Lovers, Treasurers, Perverts & Doubters.
From my colleagues: What are you DOING?!?
You are giving away precious consults……!!
But I cared mainly for those from my patients who are enthusiastic, absolutely positive, and grateful.
With support of family& friends I continued … and now there are published over 100 videos, with 13 playlists giving easy-to-understand answers using daily life metaphors on ANY argument that concerns your mouth & dental treatments, what can happen, and simple advice that can help, prevent or stimulate to change behavior.
I believe that it has helped to make my Dental Clinic more approachable and has put confidence in people who don't have confidence in dentists.
I like doing something appreciated and different from my colleagues and knowing that the videos will be out there as long as YouTube exists makes me happy to have left my Professional Footprint on my YOUTUBE CHANNEL