At last count, there were 74* current and former women Prime Ministers and Presidents alive in the world today.
How many can you name?
December 2020 Meeting speaker recap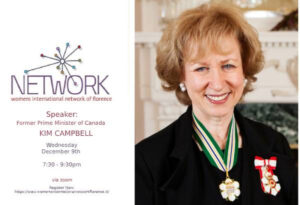 Former Canadian Prime Minister Kim Campbell – the first, and so far, only woman elected to lead her nation – has a hundred bucks that you can't name them all. Campbell posed that question and the wager to an audience nearly 20 years ago, and one intrepid listener managed to name half, by the next day. Back then, there were only 34 members of the illustrious club – and that listener happened to be former U.S. President Bill Clinton. (Of course, nowadays, someone would have just Googled it.)
"When you are an anomaly, it's easy to fall off the radar," Campbell told the women of WIN at the December holiday meeting over Zoom.
She said women are often afraid of power. Still, she encouraged group members to find ways to lead and be engaged in improving their communities. It's at the local levels that policies have the most immediate effect on people's lives.
Campbell and her husband only recently relocated to the Florence area. Renovating houses is something of a hobby for the couple, who previously redid a home outside of Paris and spent ten years there. Some years back, they had seen a local property listing and finally decided to take the plunge, and then there was a global pandemic.
It's been a bit of an adjustment due to the unusual times, but even on a bad day, Florence is a 'magical place,' Campbell said.
"Things of beauty fortify you against bad people" and bad things, she noted, paraphrasing Keats. And besides, "you have to be prepared to roll with the punches."
Campbell herself certainly doesn't pull any punches. The diplomat, who was also Canada's first woman defense minister and first woman justice minister, fiercely holds her progressive policy views and doesn't have kind words for those she feels threaten the state of democracy in the world.
"Truly horrifying," she said of outgoing U.S. President Donald Trump's refusal to accept his election loss.
"I'm worried about resurgent authoritarians," she said. "I'm worried about Putin; I'm worried about Boris Johnson…[this is] why more women need to be involved."
Representation does matter. And why is it, she asked, that Bill Clinton was a Rhodes Scholar and Hillary Rodham, who was more qualified, wasn't? As a woman, the former secretary of state and senator was not eligible at that time.  Research has confirmed, however, that giving women a seat at the table isn't just a token gesture. Women's presence make for better business and women leaders get results.
"Pushing back against people's expectations of what a leader should look like is hard," she said. "It gets less hard."
"We have to change the landscape of how the world works and who gets to do that job."
She noted that a lot of work regarding inequality needs to be done right here. "We have our work cut out here in Italy," Campbell said. She noted 70 percent of doctors in Italy are women, but in a year of fighting Covid, very few of those women were seen publicly speaking about it. "Italy is full of brilliant women!" she declared.
And locally, there is a rich history of human rights to draw on.
"I remind myself of the Etruscans who were a remarkable civilization: Women were literate, were treated equally in marriages and families," she said, adding that it had horrified the Greeks at the time.
"Three thousand years ago in the very place where we are sitting, gender relations were more equal and respectful," she said. "Think of the Etruscans."
*The Council of Women World Leaders, http://www.councilwomenworldleaders.org/