Help lengthen your muscles, get circulation moving in the sticky parts of your body
(read: tense muscles)
by Lisa Irene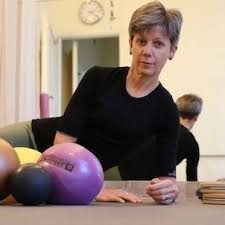 Easy Movements from Restorative Exercise® that can help lengthen your muscles, get circulation moving in the sticky parts of your body (read: tense muscles). Why get circulation to the sticky parts? Because the circulation is inhibited! This can lead to increased tension and pain.
1. One-Calf Stretch
good for releasing the calf, which can inhibit proper walking mechanics and posture… which in turn creates back, shoulder, and neck pain.
Place your one foot up on a rolled yoga mat, keeping your heel on the ground. Step forward with the opposite foot to stretch the back calf. Your foot will not go as forward as her left foot! Stay within a good stretch, a 4 or 5 on a scale of 10. More is not better! 1 minute each.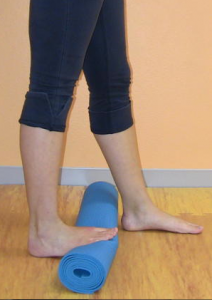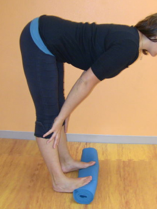 2. Mid back release
This position can release thoracic tightness (T8 – L2) i.e. mid-back.
Just get pillows and bolster until comfortable, and you can breathe fully and easily. If you can, torsional rib breathing (where you feel the rib cage expand, however just breathing is fine, too!). I was prescribed 20 min. at least 3x a week…. but you can do it every day

3. Chest Opener
On the ground, lying on your side, legs in a 90°-90° position (see foto). Roll your upper body to the other side, opening your chest (your shoulder may not touch the ground as in the foto). Let your head go where your neck is most comfortable. Here she is stretching her left pec. Try to use rib breathing (not belly breathing) as that will increase the stretch. You can rest your eyes