by Elia Nichols
Life is like that!  is how she explains still living in Italy for over 20 years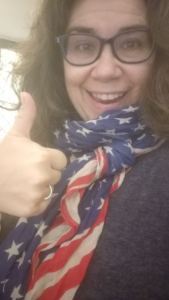 Jonnel Licari came to Italy for 7 months, 23 years ago. (Arrived Oct. 3, 1997). She never exactly had plans to stay and she still doesn't. She believes that "life is like that." However, she is married to an Italian man and they have 2 sons.
Jonnel is a journalist first and foremost. She's also an educator and an activist.
For work, people pay her to write, edit, teach, translate, and sometimes plan their travel. For fun, Jonnel likes to read, cook, and ski. She also likes wine and clever conversation.
In 2008, Jonnel founded Inglese For You which teaches English to young people through play, art, and other activities that allow children to express their creativity. By using their bodies they increase their linguistic ability, combining words and actions.
Jonnel would like to live in a more just world and as such her new non-profit venture is an effort to promote diversity in literature, particularly children's literature.
The mission of her new non-profit venture is to increase access to books that represent diverse people and stories and to use those books to foster confidence, build understanding, and inspire action for social change.
Jonnel writes that: "We feel seen when we discover ourselves in the pages of books."