by Jane Fogarty
Victoria De Maio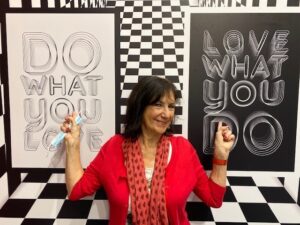 Hailing from Napa, California, Victoria De Maio is a proud 100% Italian American or as some of my proud friends in my own native Northern California home, claim FBI (Full Blooded Italian).  Growing up in the wine country of the Napa Valley, her Italian legacy was shared by a good many immigrants living there so Victoria grew up surrounded by but not really thinking about "Italian time" and, although not learning to speak it,  understanding, in her words, "Italian expressive tone, volume and gestures!"
When careers in education and corporate America had lost their allure, Victoria transitioned back to teaching…yoga! And during this time,although she had traveled to Italy,Victoria's travel bug bit her, hard. In homage to her father, she made the trip to Sicily, where I would venture to say, she found her soul, her roots, her connections to her ancestors. It all fit her background, her upbringing, her lifestyle and she embraced the gift of her DNA and wearing it proudly, began the pursuit of obtaining her birthright, Italian citizenship!
She embarked on a journey in reverse from what her grandparents had taken many years before. After two years, Victoria prevailed and Castelvetrano, Sicily registered her Italian citizenship in 2015 and she was awarded her Italian passport. What a joyous moment that was! Setting off to the discovery in Sicily and Tuscany of paternal and maternal birthplaces, she delved into the environs of her families' histories, absorbing as much as she could in order to understand her place in the world.
In the meantime,she started blogging, writing, and offering small group tours, always partnering with local destination experts which also allowed for more personal exploration and immersion into Italy.
Setting the wheels in slow motion for a jumpstart to transition from a frequent traveler to the decision to come and stay in Italy (not knowing how long that would last) was when Victoria read a quote from Karen Lamb: "A year from now you will wish you had started today."
So making the decision to pursue, the "Italian Dream" came after after serious soul searching, (albeit she had already found her soul in Italy) research and study but never does Victoria mention sacrifice. The sacrifice of leaving one's comfort zone to set off for the unknown, the uncharted, on  the adventure of a lifetime, destined to evolve into a lifetime. She has embraced and been embraced by Italy and Florence.
And her Italy Trip and Tour Design business has benefitted from the new level of, as she puts it, "boots on the ground in the boot" approach.  Strengthened by her choice to be in Italy, she is offering her clients richer experiences while supporting the local community and adding value to that community, our community, our group of expats, women from all nations, languages and cultures, WOMEN'S INTERNATIONAL NETWORK.
Her book: Victoria's Travel Travel TipZ – Italian Style
Her website: PostcardZ from Victoria