Warm hugs under bright garlands in an elegant courtyard
September Solstice Social 2022

by L.A. Robbins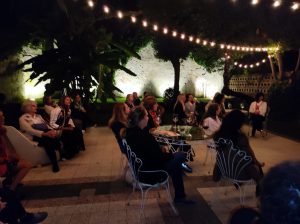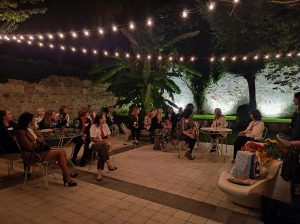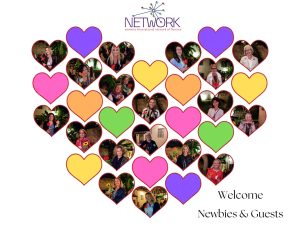 WIN's September Solstice Social launched a first in-person event of autumn in our enchanting new venue, Palazzo San Niccolò*. A group of close to forty gathered under sparkling strands of lights in the old stone courtyard, embellished with vines and climbing plants. A few minutes walk from the Arno's silver ribbon, most members greeted one another unmasked, with unabashed hugs, in jubilant abandonment of jettisoned C-19 restrictions.
We were treated to a catered apericena, introductions of new board members, announcements and a plethora of attractive door prizes including a hair treatment from Florence's Contrasto Aveda and a gay parcel of scrumptious homemade jams with a quirky ceramic pumpkin.
An unprecedented fifteen new members joined the group this month, four joining after our September reunion. All attendees were reminded of the many benefits they enjoy:
monthly meetings from September to June, seven of which will host English- speaking guests on various subjects of interest.
participation in the WIN Annual Members Fair with a small donation. Showcase business, special hobby or interest group – an excellent networking event.
an option to attend Business Lunch Tutorials designed to teach new skills for personal and business success for a modest fee
participation in our private Facebook Group to learn of upcoming WIN events. This includes an opportunity to post member activities and sharing stories of interest.
e-delivery of the WIN Newsletter detailing events, member activities, members' accomplishments and stories of interest.
membership in the WhatsApp WIN Announcement (official WIN news) and WIN Chat, resourceful networking channels for news, encouragement and answers to pertinent questions.
discounts and benefits in the Florentine & WIN community including: Il Barone Firenze leather and clothing shop – a 15% discount on their collection, frequent free offers from Contrasto Aveda Hair Salon, and many WIN member services.
*Ringraziamo WIN member Francesca Bonecchi, who graciously made  this venue viable as the site of our monthly meetings and new clubhouse.
Introduction of this year's new board:
Co-presidents: Liz Wicks and Jane Fogarty
Vice president and Newsletter Editor: Rebecca Milner
Speaker coordinators: Jonnel Licari and Elia Nichols.
Membership coordinator: Ramya Subrahmanian
Treasurer: Leslie Buskirk
Technical Wizard and Friendly Digital Coach: Donna Scharnagl
Honorary Scribe: yours truly, Lisa Robbins
Announcements:
The annual Corri la Vita in support of breast cancer patients and their families will take place on 2 October. For a €10 contribution, parade the streets in a lime green T-shirt with a cast of thousands; WIN members get a chance to meet up and do the walk in the opposite direction of the crowd.
A tribute to the passing of Her Majesty the Queen, who, at 96 years of age became the longest reigning regent of Britain. Long live King Charles and the Queen Consort.
New WIN member Lisa Brancarisano is initiating water colour workshops at Palazzo San Niccolò on Sunday Oct. 9th and Sunday Oct. 23rd For more info and signup: lisa@thistuscanlife.com
Lisa (L.A.) Robbins will present her first collection of short stories, Unspooling the Light, on Thursday 6 October at Il Conventino at 18.30. Details: larobbins8888@gmail.com
Upcoming monthly meetings:
October 12th– Speakers Dario Dall'Igna and Veronique Balduzzi, school, career and multi-cultural counsellors who help clients explore and harness their talents and assists women who are re-entering the workplace
November 9th Speaker Noga Arikha from Paris, a philosopher who will share her work on mind and memory.
WIN membership directory: https://www.womensinternationalnetworkflorence.it/directory-2021-22/#!directory/ord=lnm