by Liz Wicks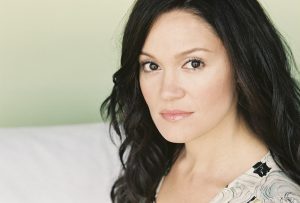 Our April Member spotlight, Monica Osborne, joined our group this September. Monica moved to Fiesole from Los Angeles with her husband Jay Karas and 9-year-old son Leo in August of 2021, and she says they are never leaving! When she joined our Zoom meeting last month while on a brief visit to Mexico, Monica said she was already homesick for Italy, where she feels a strong bond to country, culture and  community.
Monica is a woman of many and varied talents. Firstly, Dr. Osborne is a writer and former professor of literature, film, philosophy, and trauma studies. Her scholarly work has dealt primarily with representations of trauma in art, film, and literature, and has informed much of the writing she now does. Monica is a regular contributor at both Newsweek and The Jewish Journal of Los Angeles, where she is Editor-at-Large. She has also written for The New Republic, The Chronicle of Higher Education, The Los Angeles Review of Books, The Forward, and many other magazines, academic journals, and edited collections. Her book, The Midrashic Impulse and the Contemporary Literary Response to Trauma, examines theoretical modes of writing in literature about the Holocaust and other genocides. Her mainstream writing has dealt with issues including trauma and violence, racism and ideological diversity, immigration, the #MeToo movement, the TSA, Russian-Jewish culture, and the ethics of Holocaust and 9/11 comedy.
In addition to various television writing projects in early stages of development, Monica is currently co-writing a book with Mohammed Al Samawi that involves a complex story of Jews and Muslims living together in Yemen (and she is not allowed to say much about this project!). Originally from southern California, Monica has taught at UCLA, Pepperdine University, and Loyola Marymount University. She is also the co-editor of Literature of Exile and Displacement: American Identity in a Time of Crisis, a book used in college classrooms across the United States that deals with the immigrant experience in America.
Monica, we welcome you as a vibrant addition to our group!