by Liz Wicks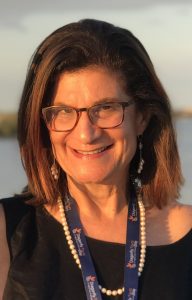 Vibrant travel industry professional Brenda MacKellar has been a member of WIN since November of 2020. Members Suzy Gray and Joyce Barnett first introduced Brenda to WIN, and she is a warm, interesting and delightful addition to our group.
Brenda says "I was new to Florence and joined the group to hear engaging speakers and meet like-minded people." Despite COVID restrictions curtailing our in-person meet-ups, Brenda has been an enthusiastic participant of nearly every in-person event we've been able to hold in the last year; the Pomellato visit last May, the yoga retreat at the Ferragamo estate in June, and our Women in Wine and new member Meet and Greet events in October. She's looking forward to meeting even more members as we move into spring and can start to meet up again.
Brenda has worked in the travel industry for over 30 years. She had never traveled abroad until working at Phillips International Art Auctioneers in New York City, after graduating from Mt. Holyoke College in Massachusetts with a B.A. in Art History.  That job propelled her to depart on a "gap" year traveling around Europe, and she ended up living in Rome for five years, learning Italian on the way.  As a lark, she started her career in the tour industry with EF Educational tours in Rome, moving up from Tour Leader and Country Manager,  to Regional Director for Southern Europe, at the company's headquarters based in Cambridge, MA.
After a short stint working on creating tours in South America, she eventually married and moved to Connecticut, where  in 1995, she joined Tauck, a family tour operator, who had recently expanded developing tours internationally.  She developed many of the company's tours in Europe before taking a brief break to raise her two young boys.  Brenda rejoined Tauck in 2010, to work alongside their newest partner, filmmaker Ken Burns to develop special events to bring his documentaries to life in New Orleans, Chicago and New York, among others.
Currently, she manages Tauck's Italian portfolio, where she delights in exposing Italy's treasures to others as the tour architect working remotely from Florence and Connecticut. In 2020, Brenda and her husband had the chance to return to Italy, and they decided that Florence would be an easier and better fit for their family than Rome. Her boys have really enjoyed the experience of spending time in Italy, and her husband John has become an avid road biker! Brenda loves living in Florence and appreciates the travel opportunities it gives her. She is a great travel resource for our group as well, as well as a fun person to hang out with!