Fewer than 5 percent of the world's CEOs are women. Sabina Belli is one of them
March 2021 Special Speaker Recap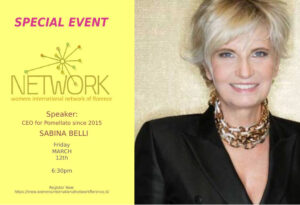 In honor of International Women's Day, Belli, CEO of the Pomellato Group, joined WIN's Elena Speranza Moll for a wide-ranging discussion on women executives and climbing the proverbial ladder of success, diversity in the workplace, supporting women in crisis, and the company's most iconic products.
Moll, WIN's co-speaker coordinator, traveled to Milan for the event while group members and guests joined via Zoom. At the center of the conversation was Belli's 2019 book, D come Donna, C come CEO – Dizionario di Leadership al Femminile (A Dictionary of Female Leadership).
In the book, she defines the keywords that helped her arrive at the top, managing a family and a career as women are required to find a "balance between private life and professional" (something men aren't asked to do).
Breaking glass ceilings isn't the only triumph for women in the workplace. Belli added that "we have to elevate ourselves off the sticky floor." Too often, women are treated as greedy when they demand to be treated equally. As she noted, when Pomellato was founded in 1967, "the word of the time was feminism, and 50 years later the topic is still the same."
"Some change has been made, but not much."
Issues like access to career paths and equal wages remain very much something women have to fight for. And women succeed "only by talking about their experience" and supporting one another, Belli said.
"I'm very proud that Pomellato gives a voice to these topics," said Belli, who took the helm at the Italian jeweler in 2015 after a long career that included stints at Bulgari, Christian Dior Parfums, and Moët Hennessy.
Another way Pomellato, with more than 50 boutiques worldwide, has stood by women is through its support of CADMI association (Casa di Accoglienza delle Donne Maltrattate), a Home for Battered Women. Providing support throughout the lockdown in 2020, Pomellato has also launched a campaign last November on the occasion of the International Day for the Elimination of Violence Against Women to raise awareness about domestic abuse. And a portion of the proceeds from the sale of Belli's book also goes to support the charity.
And as final touch: to honor the women of WIN, all those who participated in the event have a gift and a hand-written note awaiting them at the Pomellato store on Via Tornabuoni in Florence.
FOR MORE INFORMATION: