November 2022 Meeting speaker recap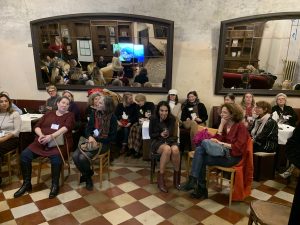 NOGA ARIKHA    Healing Through the Mind-body
by Lisa Robbins
Noga Arikha treated us to holistic thinking in her talk at WIN's November monthly meeting.  Erudite Historian of Ideas and Philosopher, she shared two aims in her work: to demystify scientific language and to show the vital connection between mind and body. On the one hand, there is the illness with its predictable process and prognosis. On the other, there is the patient, unique in how he copes with symptoms.  In order to truly heal, a patient must see that his mind and body are one; the best doctor will understand this, she argues.
'We need to learn how to communicate about science. There is an urgent move toward the transformation' that this portends, she said. 'Why do we have to go through a horrid illness to connect to ourselves?' she asks. Then she answers. Because many of us still live in a mechanistic Cartesian world … and don't associate the mind and the body. Illness arises and intensifies as we separate from our bodies. Long lasting recovery requires that the patient respect the union between mind and body. 'We forget that we too are animals…. we live in a post-Cartesian world.' It's not 'I think therefore I am'; healing ourselves and our relationships requires moving beyond this construct. Yoga offers one way to recentre, she notes, adding that this practice humbles us and, since we are arrogant, that's a good thing.
Noga's research with neuropsychiatric patients became personally relevant when her mother began to exhibit signs of dementia and depression. She shared candid observations about how to be a good daughter in supporting her mother's loss of short-term memory.  There were many poignant and comical statements; 'I'm full of power and pointlessness' her mother said one day.  Noga suggested that 'we put aside our preconceptions. It's important (and yet can be very difficult) for close kin to be involved in the physical caregiving of their loved one.' Her words prompted heartfelt comments from audience members who had undergone similar experiences with relatives. Noga also touched on how memory is a process (not a static state) and can become distorted. 'We are perpetually constructing our memories,' she stated, quoting British philosopher of science, John Dupré.
"Noga Arikha is that rare author whose deep knowledge of philosophy, science, and the arts allows her to move deftly from the quandaries of medical diagnosis and the scientific ideas that inform them to the intimate narratives of people afflicted with illnesses that threaten the coherence of that mysterious thing we call 'a self.' Astute, compassionate, and brilliant, The Ceiling Outside is finally an adventure story in the bewildering drama of being."
Siri Hustvedt, author of Memories of the Future
The Ceiling Outside addresses themes of demystifying science and accepting our mind-body. Noga encourages a rapport between psychologists, clinicians, neuroscientists, social scientists, humanists and artists in order to facilitate that.  The book has received accolades from the New York Times, the Wall Street Journal, The Literary Review and other prestigious publications. WIN members are being offered a 30% discount to purchase it. Board members will have details of how to benefit.
Educated in Europe and the US, Noga now lives in Florence with her family. We have Jonnell to thank for the introduction.